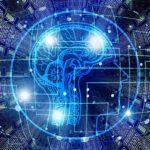 What prospect research professional isn't fascinated by Artificial Intelligence (AI), or what David Lawson terms, Cognitive Computing? As research professionals, we tend to be early adopters of new technology and keen to learn at least enough to hold a meaningful conversation about information technology trends.
So when I heard about David Lawson's book, Big Good: Philanthropy in the Age of Big Data & Cognitive Computing, I had to buy it! And I had to ask him if he would be willing to be a guest on Prospect Research #ChatBytes, too. He was willing and I got to ask him a few of my burning questions.
Questions such as…
Why write a book and why now?
How exactly is cognitive computing going to "scale" fundraising?
How can prospect research professionals get ready for cognitive computing?
As David tells us, cognitive computing is already here and many of you have it in your living rooms. Her name is Alexa and you buy her on Amazon. There's nothing threatening or scary about having an intern in your office, learning the ropes and assisting you with simple tasks. David tells us that cognitive computing can perform in a similar fashion, learning and augmenting our work, not replacing us as employees.
Even better, David shares the secret about prospect research professionals and cognitive computing that has been in plain sight all along.
Are you ready for cognitive computing? Listen and find out!
P.S. If you like this #ChatBytes interview, consider attending the AASP Summit in Chicago where you can hear David and Lori Lawson live, delivering the keynote presentation. (Nov 14-16, 2018)
Additional Resources: