Seeking an English Major with a Love of Data to Become an Accidental Fundraiser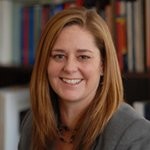 When I first learned about Shelby Radcliffe, it was because the Institute's Master Class was exploring the question of whether giving and engagement were related variables and whether giving should be included in engagement scores. I stumbled on the research paper she published on exactly that subject.
Who knew that Shelby would turn out to be the poster child for prospect research being the perfect starting place for succeeding in fundraising and development leadership roles?
In this interview she reveals exactly how she used data and a curious, open mind to springboard into advancement leadership roles.
Along the way you get to hear fun stories, like when she got to tell the volunteer alumni board members that they were wrong and didn't understand the university's donor motives (Spoiler alert! It was a positive turning point in their engagement), and the resulting insights that have shaped her leadership, pivoting from reacting to alumni volunteers to working with them to achieve strategic fundraising objectives.
Yes, you can be an English major, embrace data, and join the ranks of advancement leadership at a university near you! (or far away from you, if you have a hankering for adventure…)
Check out Shelby's research study in the links below and tune in to hear about her journey. You'll gain critical insights into how you can achieve a powerful impact at your organization – through research.