Looking for a way to create repeatable trainings on profile search? Need to guide volunteer speakers on content?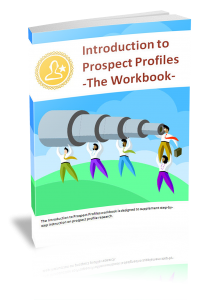 The Introduction to Prospect Profiles Workbook Package summarizes the profile search process and search techniques that form the foundation for comprehensive learning on the subject. It's based on the techniques I have used researching prospects for organizations for more than ten years.
Imagine the next time you run a "boot camp for beginners" conference or workshop and both the speakers you recruit and the attendees rave about the incredible training experience and quality tools they received. How refreshing would that be?
You have the resources – you just need a way to pull it all together reliably each year.
In 2014 I saw well over 300 postings on the APRA list-serv seeking to fill positions in the prospect research field. As part of the greater information management industry, prospect research continues to change and grow. Trained prospect researchers are in demand. Your APRA chapter needs be sure they have the skills to proudly represent our profession!
What's in the Workbook
The workbook is printed and contains 42 pages of content:
Breaks down the profile search into five distinct categories
Provides a summary of search hints and tips for each building block of the profile
Includes search engine search tips plus a Google advanced search tip sheet
Contains practice exercises with detailed answers in the appendix
Fills in the "gaps" of knowledge about public and private data and information sources
Appendix includes an introduction to gift capacity ratings
Glossary with more than 30 terms defined across 7 pages!
Please note that this workbook is designed to accompany an instructor's step-by-step demonstration of search to beginners. This workbook is NOT designed as stand-alone search instruction.
You Will Also Receive
In addition to the workbook, you also have access to these great resources:
Tip sheet for developing content consistency using the workbook
Completed profile on a public figure to use as an example
Research Links Directory of the best free and fee sources
The Profile Collection of templates and commentary
Pop quiz on the Institute's classroom website to test for knowledge
Video on Ethics and Privacy available on YouTube
Using the Workbook Package at your Training
Many APRA chapters offer "boot camp for beginners" style conferences or workshops intended to give new prospect researchers the basic skills they need to perform their jobs. These low-cost training opportunities frequently use local, experienced practitioners as volunteer presenters. Excellent researchers don't always translate into great speakers and the instruction provided can sometimes feel disjointed from one speaker to the next.
By using the workbook as a guide for the instruction on profile search, volunteer speakers immediately have an outline for the content they will present. The speaker has the option of using the completed profile on a public figure as an example to demonstrate search techniques and sources, as well as lead discussion around other topics like capacity ratings.
Participants benefit from having a place to jot down additional notes and a reference book to take back to the office and refer to long after the training is over.
Imagine the possibilities:
Your volunteer instructor can spend less time prepping by following the workbook content giving him/her more time to help students solve the practice exercises
Hours of research already completed and presented in profile format on a real person leaving your instructor available to lead discussion on profile differences and field questions about the what and why of what's in the profile
A ready-made profile to walk through creating capacity ratings
Lots of room for instructors to vary content and introduce their own personal style and experience
About the Author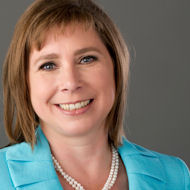 I'm Jennifer Filla, a Prospect Researcher and Fundraiser at Aspire Research Group LLC and co-author of Prospect Research for Fundraisers: The Essential Handbook, part of the AFP/Wiley Fund Development Series. I have been a member of AFP and APRA for ten years.
For five years I have been speaking and presenting at AFP and APRA meetings and conferences. The demand for clear instruction that can be applied immediately at the fundraising office led me to launch the Prospect Research Institute.
Cost – $45
Per person/workbook
Minimum order of 10
Workbook Package will ship 2-3 weeks from receipt of payment (on-demand printing)
Need the Workbook Package sooner? Still have questions? Call 727 202 3405