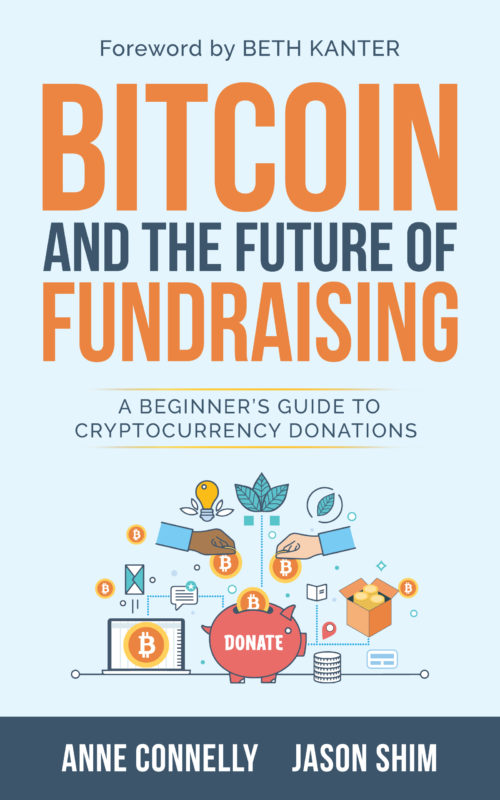 We've all heard about Bitcoin and cryptocurrencies in the news. Most recently, El Salvador adopted Bitcoin as legal tender in June 2021, and China is cracking down on cryptocurrencies even as it is working on creating its own cryptocurrency.
While cryptocurrencies are subject to debate and volatility, there's no question that they are present in philanthropy. For instance, Fidelity Charitable reported that investors have given $158 million in cryptocurrencies to their donor advised funds this year, compared to $28M in 2020.
Bitcoin and the Future of Fundraising: A Beginner's Guide to Cryptocurrency Donations by Anne Connelly and Jason Shim, provides a comprehensive guide for fundraisers to understand the fundraising potential of cryptocurrency. It presents a well-researched explanation of why charities may want to consider accepting cryptocurrency.
Recent estimates suggest that there are over $1 trillion in cryptocurrencies around the world with 101 million unique users. Sprinkled throughout the book, there are examples of cryptocurrency gifts made to nonprofits. For instance, one box notes that the UK charity, the Children's Heart Fund, received $48,000 in cryptocurrencies in July 2020.
Who Should Read This Book?
This book should be read by everyone thinking about cryptocurrency and philanthropy. It provides a good basis for understanding the basics of cryptocurrencies in a non-technical way. It also explores why nonprofits should take cryptocurrencies seriously as well as how to implement a cryptocurrency program at a nonprofit.
The authors make the apt argument that once-upon-a-time nonprofits were skeptical of other new technologies —credit cards and the internet— and now these are normalized within most nonprofit fundraising operations. Crypto is yet another vehicle and a new technology.
I also appreciate the case the book makes that accepting cryptocurrency may align with strategic vision. The book notes if your organization is about promoting financial literacy, privacy, free speech, etc., there may be close alignment with the nonprofit and crypto.
In the introduction, the authors point out:
"So why should charities pay attention? Because when polled, less than 4% of charities accept cryptocurrency donations. The wealth is there, but is your nonprofit ready to receive it?"
Nonprofits who are not accepting cryptocurrencies may be missing out on new revenue streams as well as an opportunity to connect with new donors.
Where Does It Take you?
The book is divided into four sections. The first provides an explanation of the basics of cryptocurrency, everything from what Bitcoin and blockchain are, to how one actually purchases cryptocurrencies. For instance, it explains what wallets are –it's a digital place to store the crypto. There are hot and cold wallets. Hot wallets are connected to the internet and it is how the cryptocurrency will go in and go out of your possession. A cold wallet is not connected to the internet and is considered more secure.
The second chapter explores how a nonprofit could set up their operations to accept cryptocurrencies, including suggestions on how to generate support at all levels, policy decisions, and more. It includes recommendations on making a Cryptocurrency Working Group and even a section on making a case for cryptocurrencies. It goes through common questions that people may have including questions about legality, anonymity and more. One important question covered is whether a nonprofit will immediately convert the cryptocurrency donations into fiat currency or keep and hold it as an investment.
The third section gives vital information about the general profiles of different segments of crypto-donors as well as discussion of use cases for crypto. It distinguishes between crypto-donors like the Bitcoin Maximalist, who sees Bitcoin as the only important cryptocurrency, or the Trader, a person who buys and sells cryptocurrency. Both segments have different approaches to cryptocurrencies.
The final section includes a series of interviews with crypto-donors and people at nonprofits about philanthropy and cryptocurrencies. One of the more striking things was this comment by one donor Andrew, a Crypto Donor who was interviewed for the book:
"Yes, and I would fall into the major donor category…I don't like charities that immediately sell the crypto. If they are going to do that then I might as well donate fiat."
Is It Worth the Purchase Price?
At $16.99, this book is absolutely worth the price. It's the first practical guide I've seen on the market about integrating cryptocurrency into fundraising programs. It really provides a case for why nonprofits cannot ignore cryptocurrencies any further.
In particular, the book's breakdown of donor segments is key. Little has been written about crypto-donors and this book fills that hole. These are not your typical donors. Many of these donor segments are unlike the typical donor at most organizations. These crypto-donor segments will help provide a framework to approach and talk to prospects about cryptocurrencies. The interviews also gave some great insights to how folks in the industry think about their money and philanthropy. Also, it's great that they included the corporate side too!
I would have liked a deeper discussion about the negatives of cryptocurrencies. While many cryptocurrency investors are passionate about crypto, there are many people who remain very skeptical, or people who think that the entire industry is a giant bubble. The authors are very enthusiastic about the future of cryptocurrencies but not everyone is.
While the authors do address common negative views of crypto throughout the book (especially in the section "Making the Case for a Cryptocurrency Donation Program"), I think a chapter dedicated to counteracting some of the negatives would have been beneficial. Also, an exploration of what regulatory changes may be on the horizon would have been useful.
It would also have been great to see a deeper discussion on how to figure out what cryptocurrencies a nonprofit should accept. There are thousands of cryptocurrencies; estimates range from 7,000 to 13,000. How does a nonprofit choose? Obviously, Bitcoin would be one, but what about Dogecoin or Shiba Inu? What do you do if a donor comes to you with a crypto that you've never heard of? While the authors couldn't possibly weigh in on all the cryptos in existence, I think nonprofits would benefit from at least a framework to think about which cryptos they should accept.
One thing that the book does really well is showing how cryptocurrencies are only a part of the world. There's a section on Future Forward Fundraising about how other technologies in this industry might impact nonprofits and fundraising, everything from automated matching and crypto-asset trusts. It shows that there's so much more that these new technologies can do in fundraising.
Overall, this book is a must read for anyone interested in the intersection of philanthropy and cryptocurrencies.
Resources