"It's critical that researchers and fundraisers need to team up!" – Suzanne Barlow in #ChatBytes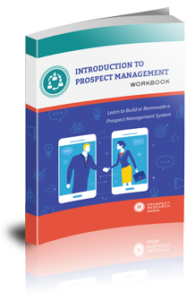 The Prospect Research Institute is pleased to announce that it is developing a workbook and course: Introduction to Prospect Management. This workbook and course will teach you the building blocks of a prospect management system, how to communicate through change, and how to develop policies and procedures for your prospect management system.
The workbook is wrapping up its peer review and the course is under development.
"The Introduction to Prospect Management course will round out our series of introductory courses for each of the key research domains: Prospect Research, Fundraising Analytics, and now Relationship Management," says Jennifer Filla, CEO.
If you're interested in learning when the workbook and course are available, sign up for the Relationship Management email interest group at the Institute. We'll send you the announcement first!
Questions? Contact info@prospectresearchinstitute.org