At the Prospect Research Institute, we have people from 13 different countries represented: Amsterdam, Australia, Canada, Germany, Ireland, Malaysia, Mexico, Netherlands, New Zealand, Singapore, South Africa, United Kingdom, United States. (And those are only the people who have opted-in to identify their country!)

Prospect Research is big and its global – and it is also misunderstood or altogether unknown. We are on a mission to change that latter state of affairs.

Long ago, in a far-away year (2014), March was dubbed #ResearchPride month by Helen Brown. The Institute recognized the brilliance of this move and began celebrating together with the profession at large.

This year, in 2022, the Institute and its partners, Staupell Analytics, and Apra Florida Chapter have crafted a month-long slate of activities to celebrate and educate.

Please join us in fun and educational activities that will inspire and surprise you!
Brought to you by
Event Schedule
Staupell Water Cooler Chat: Prospect Identification
4 Mar | 2pm-3pm ET
Marianne and Jen are back again! Jennifer Filla, CEO at Aspire Research Group and the Prospect Research Institute, will join Marianne for this Water Cooler Chat to cover the latest in prospect identification. Jen will share AFP's "Linkage, Ability, Interest" framework, used for developing a custom system for identifying, verifying, and qualifying mid and major gift prospects. Marianne will share ways to automate prospect identification for any size shop.
Institute Member's Master Class on Prospect Identification
16 Mar | 2pm-3pm ET
PAID MEMBERSHIP REQUIRED
Donor acquisition and major gift prospect identification are often confused. While the notion of the "donor pyramid" is a bit antiquated, it still has some validity. The most significant major gifts are not from first-time donors. From a data and research perspective, what are the ways in which organizations are identifying major gift prospects, and how does your organization fit in?
---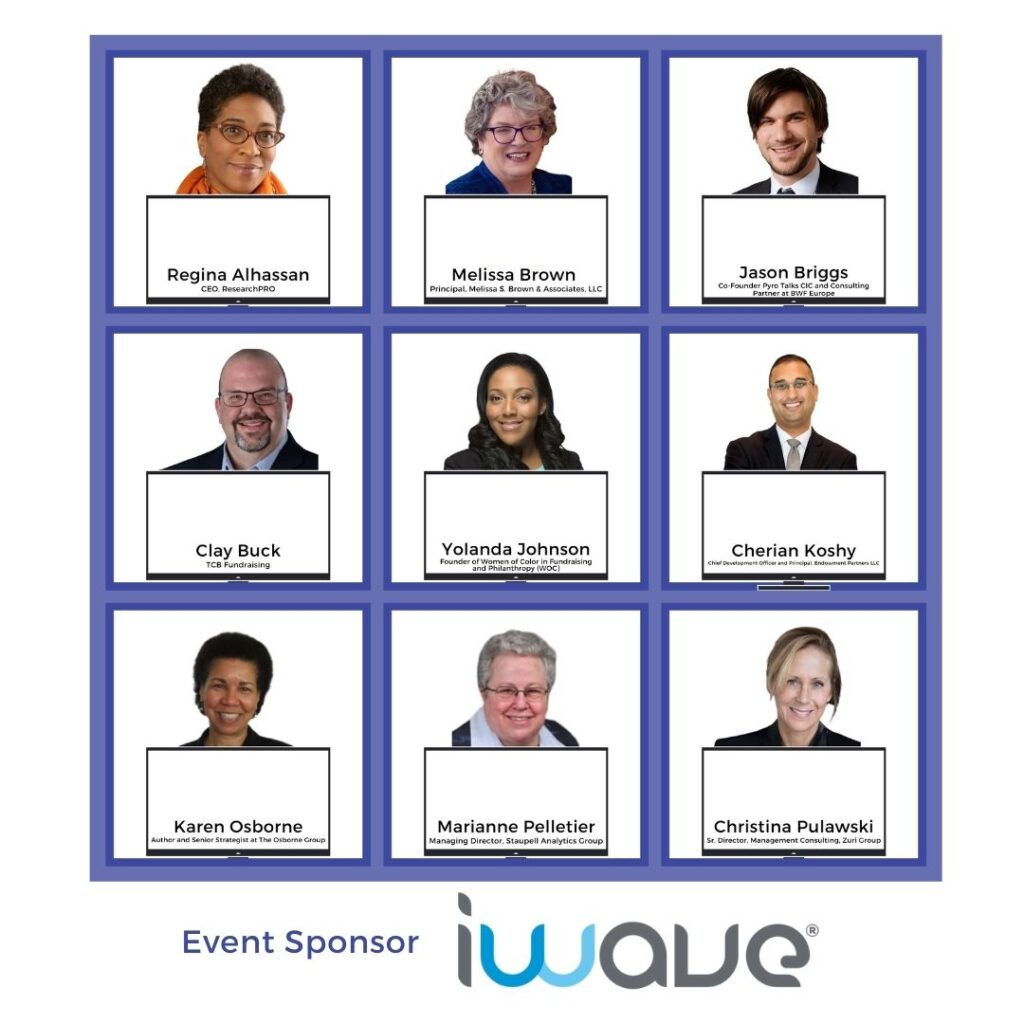 Research Squares at the Prospect Research Institute
25 Mar | 3pm-4:30pm ET
You guessed it! Research Squares at the Prospect Research Institute is going to be very similar to the famous Hollywood Squares TV game show. We are recruiting top stars in fundraising and research – celebrities of the profession – and will open up a lottery for four lucky contestants who will compete to win prizes. Just how well do you think you know fundraising research? Will you know if the celebrity is giving you the right answer?

Come join in the fun whether you want to be entered in the lottery to be a contestant, or just want to attend to watch the show!
"What I Wish I Knew When I First Started" with Apra FL
29 Mar | 2pm-3pm ET
Apra Florida invites you to join its members for a round table discussion. Watch the short videos recorded by Apra Florida members where they share "What I wished I had known when I started, about…" Videos will be available on YouTube in March and will cover topics such as Profiles, Prospect Management, Database, Resource Tools, and Front-line Fundraisers.
---